Choose the #1 Dumpster Rental Fayetteville NC Has to Offer from Dumpster King
Trust the local professionals from Dumpster King with your dumpster rental Fayetteville NC residents and business owners count on. Your residential, commercial, and construction needs are met with professional service and clear pricing on top-quality rentals. When you have one of our conveniently placed bins on site, your upcoming cleanout, home improvement project, demolition, roofing job, or ongoing waste management at your business is a stress-free experience.

As a locally owned and operated business, we take great pride in offering our neighbors excellent options for a dumpster rental Fayetteville NC can depend on year-round. We exceed our customers' expectations with prompt, courteous service, a staff with knowledge of the area, and great prices with flexible delivery and removal options. Whatever your short- or long-term waste disposal project goals are, we have no doubt we're the top choice to help you achieve your goals in a timely and affordable manner.

Dumpster King has you covered if you're looking for a competitively priced, industry-leading dumpster rental Fayetteville NC trusts for your home or business. You never have to sacrifice quality or friendly service to get a great deal when you work with our team. You'll also appreciate how simple and convenient our online scheduling is with the help of our modern digital booking system. Click the gold "Book Now" button to schedule a delivery online in a matter of minutes. We proudly serve Fayetteville, North Carolina, and surrounding communities, so give us a call with any questions regarding our services at (919) 669-7370. We are here to help you achieve your waste disposal goals today!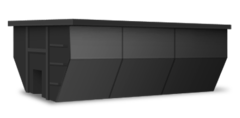 Dimensions
14' L x 8' W x 6' H
Included Tonnage
2 included
Additional Days
:
$10/day
Extra Weight
:
$50/ton
We Take Just About Everything
Some examples of the junk we haul away include:
Refrigerator Disposal

Garbage Removal

Mattress Disposal

Foreclosure Clean Outs
Construction Waste Removal

Yard Waste Removal

Trash Removal

Appliance Removal
Television Disposal & Recycling

Furniture Removal

E-Waste Disposal

Hot Tub Disposal
Use a High-Quality Dumpster Rental in Fayetteville NC to Complete a Range of Projects
Dumpster King is the area's top choice for a dumpster rental in Fayetteville NC that residents, businesses, and construction professionals can count on for their waste containment and disposal needs. We make it simple, convenient, and affordable for our valued customers to accomplish their residential or business goals. Area homeowners, contractors, and businesses expect a top-quality solid waste container city of Fayetteville can rely on. We deliver just that with high-quality service and equipment, on-time delivery and pickup, and prices that are unparalleled in the area.

Whatever your reason for needing a dumpster rental in Fayetteville NC to handle all of your debris, we can help. Homeowners with an upcoming remodeling project, yard clean up, deck replacement, the removal of large household items, or clearing out bagged trash depend on our dumpster rental near Fayetteville NC to contain and remove the junk and debris from their lives. Contractors count on our budget-friendly bins conveniently placed for their bulky debris from new construction, demolition, or roofing replacement projects. Our heavy-duty bins are the preferred waste containment and disposal option for residents in the area, no matter the source of the debris. All debris is safely transported to the GFL Fayetteville Transfer Station, where it is disposed of properly in accordance with local and state regulations. Start scheduling your delivery online now by clicking the gold "Book Now" button!

Residential Dumpster Rentals Fayetteville NC Homeowners Can Depend On
With the help of our dumpster rentals Fayetteville NC residents have the tool they need to accomplish their upcoming goals at home. Tackling a home improvement, repair, or cleanout project can be overwhelming or feel impossible without a trash dumpster drop off NC Fayetteville residents rely on outside their doors for convenient containment of unwanted items. Simply toss your trash, broken furniture, appliances, carpeting, sheetrock, and old cabinetry into the bin and start your remodel or upgrade with a clutter-free work area. Make better use of your home's space and declutter your attic, garage, basement, closets, and yards. Start your project by scheduling your roll off Fayetteville dumpster rental property owners can count on today. Conveniently book online anytime!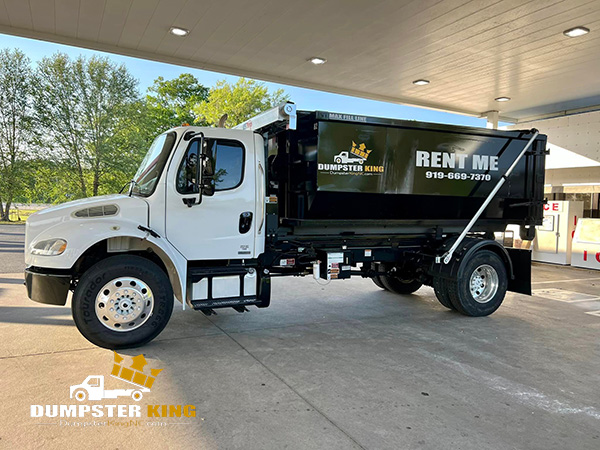 Rent a Dumpster Fayetteville NC Residents Use for Yard Waste
Improve the curb appeal of your home and rent a dumpster Fayetteville NC residents love for their clean up and outdoor projects around the home and yard. Make sure that your yard and landscape are as tidy and well-kept as the interior of your home with the added support of one of our driveway-friendly bins. Dumpster King has been delivering options for a roll off dumpster rental in Fayetteville to area homeowners for years. With our container close by, you can easily load storm-related and garden debris, broken unused outdoor furniture and toys, materials from a deck or porch tear-off, and much more to finish your yard and landscaping project with ease.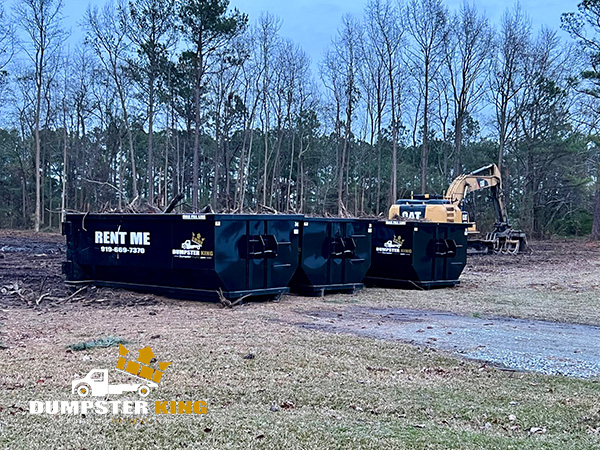 Roll Off Dumpster Rental Fayetteville NC Businesses Trust
Trust Dumpster King for the roll off dumpster rental Fayetteville NC business owners depend on to clear the waste so they can focus on more important aspects of their daily operations or the project at hand. Every business needs a dependable trash containment and disposal service, whether for temporary or ongoing use. Keeping the area in and around your commercial space clean and debris free is essential to the first impression your customers, employees, tenants, and visitors have, so make it a good one. Whether you own a restaurant or retail store, oversee an apartment complex, or manage a student housing building, when you partner with us for your trash dumpster rental in Fayetteville NC, we take it from there. Call our team at (919) 669-7370 and speak with our knowledgeable staff about your business's trash disposal needs today!
Construction Dumpster Rental Fayetteville NC Contractors Use to Keep Work Sites Clean
Dumpster King is the top choice for construction dumpster rental Fayetteville NC contractors use the most to keep their operations flowing smoothly. Safety and a well-functioning work site are top priorities for a contractor or project manager, whether working on a small residential remodel or a large-scale commercial development. Our local team will get a top-quality, well-maintained bin on your site for debris containment when you need it. Keep all of your construction-related materials safely contained inside a durable roll-off. We work closely with our customers to make sure that their construction dumpster rentals Fayetteville NC trusts are meeting their needs and that our service exceeds their expectations, all at a price that keeps their budget on track. Start your online booking now, or give us a call to work directly with one of our staff members.
Durable Roll Off Dumpsters Fayetteville Roofers Choose First
Choose our roll off dumpsters Fayetteville area roofers appreciate for the safe containment of debris from their jobs. Roofing materials such as metal, shingles, lumber, piping, and nails are contained and out of harm's way inside our easy load roll off dumpster rental Fayetteville roofers won't start a job without. You'll never be left without a container for your waste materials, as our team is highly responsive and professional. If your needs change, give us a call, and we'll swap out your container or pick it up if your project has finished early. Our service won't leave you lacking, and our prices keep your budget intact. Online reservations can be made right away with our user-friendly booking tool, or you can give us a call directly from your work site to make arrangements.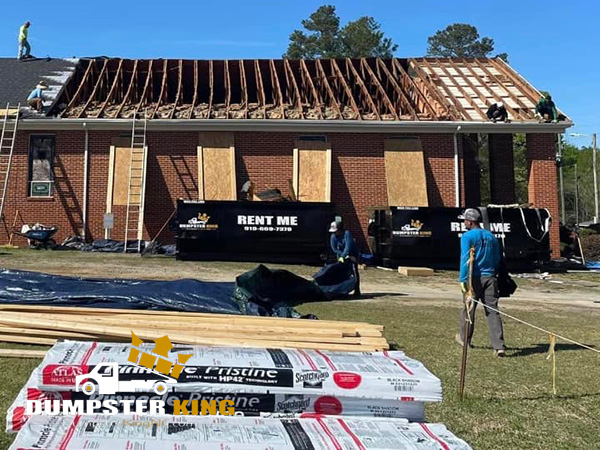 Why You Should Book the Dumpster Fayetteville NC Relies On From Us
Choose Dumpster King for the dumpster Fayetteville NC residents and businesses prefer for their various waste removal projects. We aren't the only rental company in the area, but we have the best reputation. As a locally owned and operated business, we care about our customers' goals as much as they do. We are proud to play a part in the community and provide a valued service to a range of customers across the area. Our commercial-grade bins are supplied by industry-leading manufacturers who consistently innovate their own designs and provide the best options for safe, driveway-friendly, easy-to-load roll-off containers that hold and transport a range of bulky waste efficiently and conveniently.

We've simplified the process of renting the dumpster Fayetteville NC uses year-round for their home or business. It couldn't be easier or more convenient than with our secure online system. With a few clicks from your smart device, you're laying the groundwork for accomplishing your debris disposal goals in no time. Don't put off your project any longer - get started on achieving your waste removal goals with the roll off dumpsters Fayetteville NC trusts most!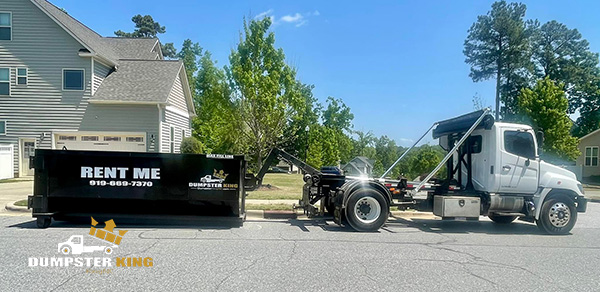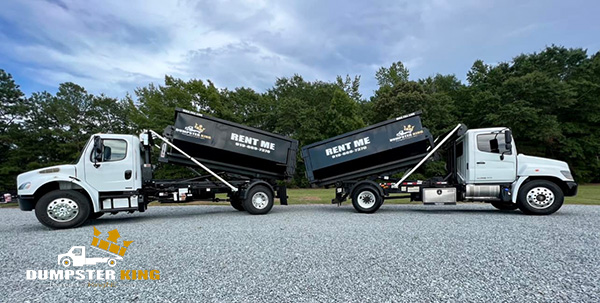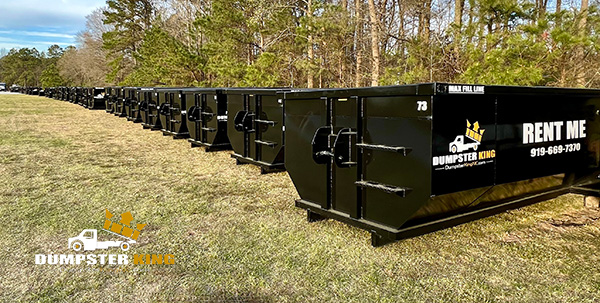 How to Reserve a Fayetteville NC Dumpster Rental Online
Reserve your Fayetteville NC dumpster rental securely and conveniently online using our state-of-the-art booking system. In a matter of minutes, you'll schedule delivery of a container to accomplish your waste disposal goals and be well on your way to clearing the clutter in no time. You can also give our team a call at (919) 669-7370 to schedule a drop-off over the phone with one of our friendly staff members.

To reserve online, click the gold "Book Now" button in the upper right corner and follow the steps below:
1) Click the gold "Book Now" button listed next to the price.
2) Review specific product details and click the gold "Add To Cart" button.
3) Specify your service type, homeowner or contractor, and click the "Continue" button.
4) Using the calendar provided, choose your rental date(s).
5) Your order number, dates, base price, and any applicable taxes will be displayed. Then click "Checkout" to secure your delivery.
6) Enter your information into the form, including contact and billing, dumpster placement, and a brief description of items to be disposed of. Click the "Continue" button.
7) Enter your payment using any major credit card and submit it with our secure system.

An email confirmation of your reservation will be sent to you. A member of our team will be in touch leading up to the day of delivery to discuss a drop-off window. With our team, guesswork does not come into play. Booking your Fayetteville NC dumpster rental is a simple process with clear pricing and customer support that you can count on. Get yours booked today!

Fayetteville Roll Off Dumpster Rental Sizes and Prices
Dumpster King currently offers a 20-yard Fayetteville roll off dumpster rental option, which is conducive to a broad scope of residential and commercial project goals. This versatile size will serve property owners, contractors, residents, and individuals with a range of repair, cleanout, renovation, and miscellaneous waste disposal needs. View more information about the reliable, budget dumpster Fayetteville NC depends on and trust that our services are affordable with no hidden fees. Our customers value our clear pricing, flexible delivery options, and prompt pick-up to support their short or long-term goals seamlessly.

Our 20 yard roll off dumpsters Fayetteville NC chooses first have a base price of $350 for up to seven days of rental time. These containers measure 14' long by 8' wide by 6' high, with two tons of waste disposal included in the price. Any days beyond the seven-day time frame are priced at an additional $10 per day. Any additional debris weight beyond the two-ton base is priced at $50 per ton. We keep our prices low so that both homeowners and businesses can accomplish their goals for waste and debris disposal while sticking to their budgets.

Delivering a Fayetteville Roll Off Dumpster to Your Neighborhood
We're proud to be the top choice for a Fayetteville roll off dumpster that local businesses, homeowners, and property managers depend on. Our service area extends across Cumberland County and we're confident that our 5-star reviewed Fayetteville NC dumpster service can handle all of the bulky debris that you need removed from your home or business. As a locally owned and operated business, we're invested in our communities and care about the results of your upcoming waste removal project just as much as you do.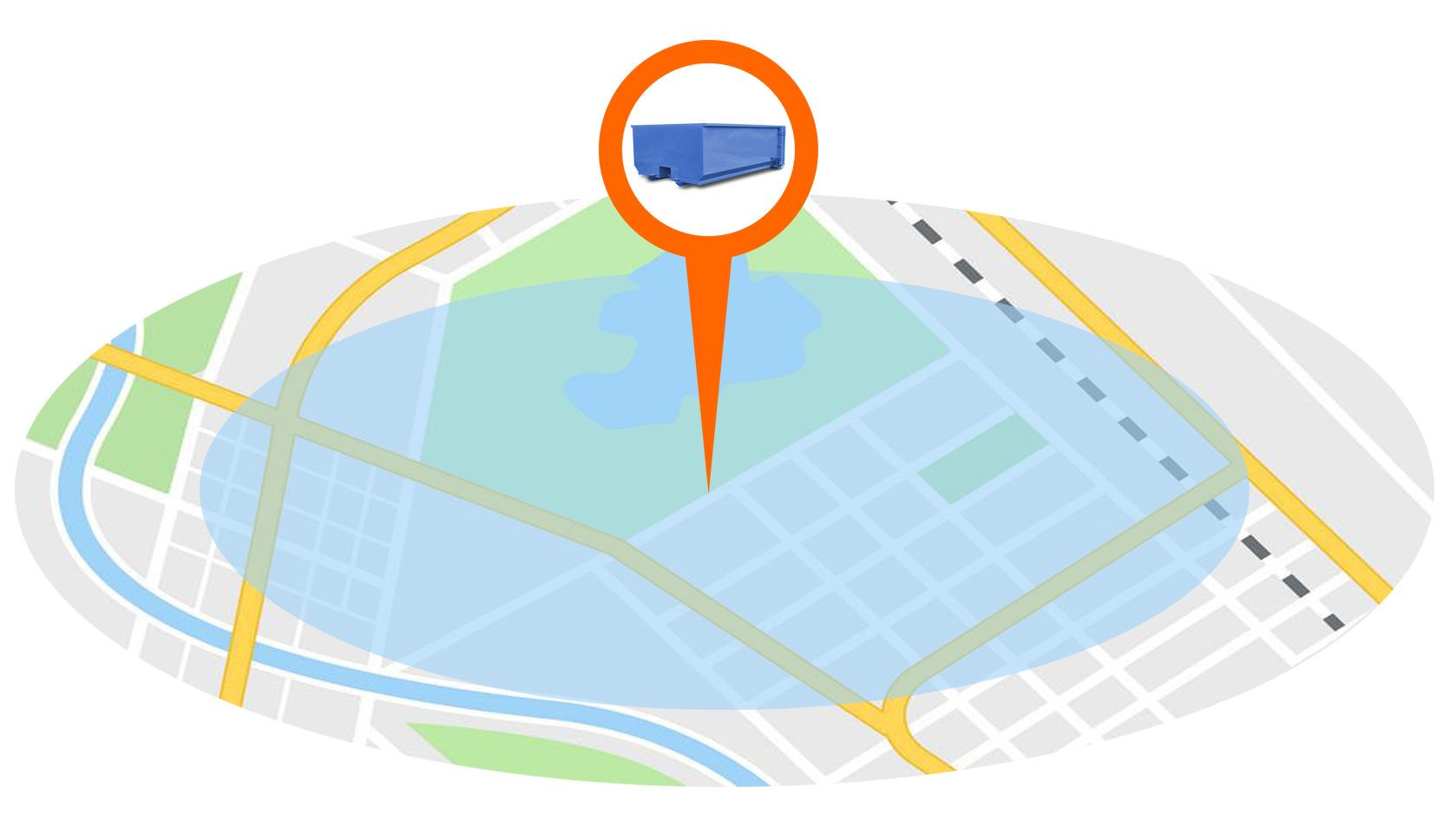 We are the trusted Fayetteville roll off dumpster service that is used the most by the surrounding communities of Benson, Clayton, Selma, Smithfield, Four Oaks, Garner, Dunn, and Angier, including the following zip codes: 28301, 28303, 28304, 28305, 28306, 28307, 28308, 28310, 28311, 28312, 28314, 28390, and 28395. We are pleased to partner with local residents, business owners, municipalities, and the Cumberland County School District to keep our communities clean and debris-free. If your zip code isn't listed or you're outside the service area, give our team a call and we'll see if arrangements for delivery can be made. You no longer have to spend hours searching for the best dumpster rental near me Fayetteville NC can count on with the help of Dumpster King!
View Service Area
FAQs On How to Rent a Roll Off Dumpster Fayetteville Uses Year-Round
When you rent a roll off dumpster Fayetteville depends on for debris containment and disposal, you may have some questions before beginning the process. We have the answers that you're looking for! Dumpster King takes the guesswork out of the process. With clear pricing and great customer support before, during, and after the rental, booking with us is a stress-free experience from start to finish.

When it's time for you to rent a roll off dumpster Fayetteville uses for various projects, we are here for you. Click the gold "Book Now" button to start scheduling a delivery in minutes, or give us a call with any questions. If you're in Cumberland County or the city of Fayetteville, how to rent a dumpster has been simplified by our state-of-the-art online booking system. Check it out now and take a look at a couple of frequently asked questions below.
Q.
How long can I rent a dumpster?
A.
Rentals can be as short as one day or as long as several weeks. Sometimes, customers will order a morning dumpster delivery, and then the dumpster will be removed that same night. Some customers also require daily, weekly, or biweekly dumpster removals until the project is complete. We offer flexible scheduling and responsive communication so that you can complete your waste disposal project at your own pace.
Q.
Do I need to load the dumpster in a specific way?
A.
When you put trash in the dumpster, try to spread it out as evenly as possible. By loading in this way, the bin is less likely to become overloaded. Debris must be contained within the dumpster, with nothing hanging over the sides. We cannot remove bins with overflowing waste or materials jutting out of the bin. Waste should not exceed the top of the bin.
Q.
How do I modify my dumpster removal date?
A.
If you need to keep your dumpster rental longer or have it removed sooner than planned, give us a call and we will make it work for you. We realize that plans can change or debris estimates can be off. Give us a call at (919) 669-7370 and we will be glad to adjust your rental to suit your needs.